Wellness Features
Six-Step Personal Self-Care Plan
Meals, Mood, Glasses of Water, Hours of Sleep & Exercise
Daily Gratitude
Start & End Self-Assessments
Health Symptom Tracker
Monthly Self-Care Challenges
Planning Features
Monthly and Weekly Goal Setting
Daily, Weekly, & Monthly Planning Pages
Monthly Reflection & Road Map
Year at a Glance Page
27 Additional Notes Pages
Quotes by Inspiring Women
Specifications
6-Month Planner, Open-Dated
Paper: Premium 70 LB
Soft-Touch Cover: Latte, Blush, Sage
Linen Fabric Cover: Dusty Rose, River, Sand Grey, Moon
Page Size: 6.5" X 9"
Made & Designed in Los Angeles, California
Create your self-care plan in six steps.
The Self-Care Plan: Six positive psychology researched steps designed to help you reflect on your current self-care practices, recognize areas where you can improve, and generate ideas for new self-care activities you enjoy. 
Live a healthy, balanced life.
The daily page combines everything you need to plan and schedule your day with space to keep track of your health and wellness.
Create positive habits that stick.
The weekly page allows you to track your sleep and mood patterns, get rid of bad habits, and set yourself up to succeed by prioritizing your goals.
Finally, a daily planner that prioritizes self-care.
Working towards your goals is hard, but shouldn't stress you out. Our unique system helps you achieve your goals without compromising your health and wellbeing in the process.
Customer Reviews
01/11/2021
Madelyn A.

United States
I love it!
I originally heard of simple self through a subscription service called Cause Box. I loved my 13 week planner so much that when I completed it, I immediately bought the digital download version of the self-care planner! I have already recommended this product to my friends and family, and I would recommend it to anyone!
10/12/2020
Nida C.

United States
Really excellent planner
I'm an avid planner user for many a year now. This is one of the most refreshing planners. It does such a good job of understanding "out of sight, out of mind". The designer has done the work to understand what things fall off the plates of "to-do" driven days: drinking water, taking a moment to reflect on what one is grateful for, thinking about what one ate, exercise, and so much more. I love that because... well... trying to remember all of these things is another part of mental-juggle-stress. This planner was designed to see that. I love it and use it everyday. I couldn't find proper reviews/user photos about the digital version. I use it on my iPad and highly recommend it. It's a great investment.
08/25/2020
Tracey K.

Canada
Such a useful planner - love it!!
I received my first planner through Causebox and was a bit skeptical at first. But working through the 13 weeks was a genuinely useful experience. The planner is so well laid out that it motivates you to keep going and the realizations along the way (big and small) were important enough that I ordered the refill pages. Going forward I suspect this will end up on my holiday list because having a bound copy is just that much nicer.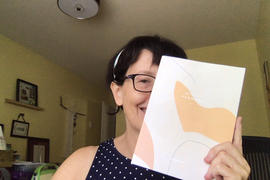 For those ambitious types who forget to slow down
I am so picky about planners (having used many since I learned how to write), and this one has passed the test. It is the "self" planner on my desk, in addition to a mini-journal and a planner that keeps track of my work hours and appointments. I am easing my way into using all of the features (the weekly assessment area - sleep, habits, etc.), but on a daily basis, I can keep track of my self-care actions, food intake (basic form), primary goal, to-do list, exercise, and one thing I'm grateful for, all in one spot. Being a mom, wife, and working 3 jobs, I forget to do something for myself some days, and I need to reduce stress. This journal helps to remind me - fill in those blank spots for the day, including self-care, even if it's just a tub bath at the end of the day. I am able to recognize how all of the features of the day affect each other and the engine that is me, haha. It's all connected. I started to plan my day ahead by filling in some spots ahead of time, so it keeps me on track. Great gift idea for the person you know who does it all but needs better self-care habits and likes to use a paper planner and/or paper journal.
10/30/2019
browneyed_girl10
Buy this!
This is an amazing planner. I love how it covers all aspects of self care and has challenges. Such a great tool!
Absolutely gorgeous, be sure to look at their website for more info!
I genuinely love this planner. I'm going to start using it January 1, but I've spent a lot of time poring over it and I'm going to start the beginning pages and filling in dates soon. PROS: it's gorgeous. I love the gray color, the metallic embossing, the pink ribbons. The paper is nice and thick. The design is lovely and clean. There's a good mix of self-care/health stuff and to-dos/productivity stuff. This planner is beautifully thought out and designed. And the additional health tracking in the back is a nice touch. CONS: These are all pretty minor. 1) There's a misprint in mine where the first week in the planner is missing its weekly planning page. 2) The weeks are each 9 pages long, meaning one week starts on the left side of the spread, and then the next week starts on the right side. It's a small complaint, but I like uniformity in design. 3) The cover itself has a slight sharpness around the edges. 4) There's no pocket in the pack, unlike most planners these days. Overall, this planner is gorgeous and I hope the company is successful. I would definitely buy another in the future.